Professional Hardie Plank Siding Installation in Birmingham
Are you looking for a reliable, low-maintenance siding material to protect your Birmingham, Alabama home? Look no further than Hardie Plank siding! This sturdy and long-lasting product is the perfect choice if you want to add lasting value to your home. With its attractive design options and affordability, it's easy to see why Hardie Plank has become a favorite among homeowners in the area.
At Siding Experts of Magic City, we connect you with experienced and professional siding contractors who want to make sure your Hardie Plank siding installation is done right. They offer superior quality that can stand up against Alabama's extreme weather conditions. With our Hardie Plank siding providers' expertise, your house will look beautiful and be protected from moisture and other damage caused by rain, hail, wind, or other elements. P
Let our network of siding contractors take care of everything – from start to finish – making sure you get exactly what you want at an affordable price.
What is Hardie Plank siding and why is it the best choice for my home?
Hardie plank siding is an attractive, durable product that's perfect for homes in Birmingham, Alabama. It's made of fiber cement, a combination of sand, cellulose fibers and cement that's fireproof and resistant to rotting, cracking and pests. This makes it ideal for our hot southern climate!
Here are some benefits of Hardie Plank siding:
Aesthetic appeal – Hardie plank comes in a variety of colors and textures so you can customize the look of your home. You'll add curb appeal with this classic style.
Durability – With its resistance to moisture damage and other weather elements, Hardie plank will last longer than many traditional wood sidings. Plus, you won't have to worry about repainting or re-staining every few years.
Low Maintenance – Once installed, Hardie plank requires very little maintenance; simply wash it off occasionally with water from a garden hose. When compared to painting or staining wood siding often, this is a huge plus!
Hardie Plank Siding is widely known as one of the best materials on the market for protecting your home against all kinds of wear and tear while still looking beautiful year after year. Its long-lasting quality gives you peace of mind knowing that your investment will pay off in the end. So if you're looking for reliable protection combined with timeless style for your Birmingham home – then Hardie Plank siding is definitely worth considering!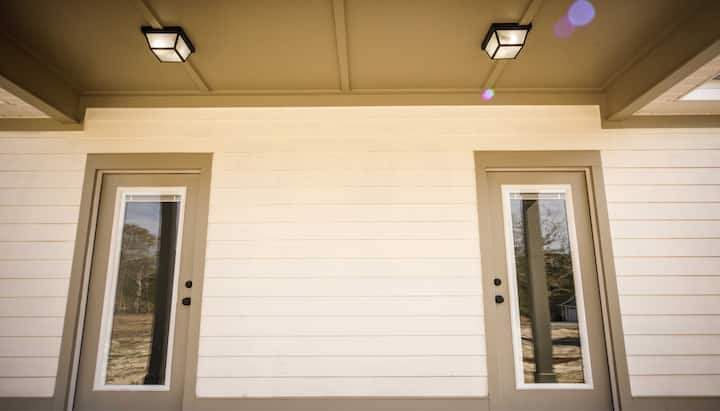 Get In Touch
To get in touch with us regarding your siding needs today, please fill out the form or give us a call! We will be more than happy to discuss your project with you.
Hardie Plank Siding Color Options
Hardie plank siding is the perfect choice for your Birmingham, Alabama home. Not only does it look great and provide superior protection against the elements, but there are a number of color options to choose from as well. Let's explore some of these:
A bright white color will give your home an unmistakable curb appeal that stands out like a beacon in any neighborhood. It also reflects light which helps reduce energy costs.
If you prefer something more neutral, gray tones are available in both cool shades and warm hues depending on what works best with the exterior of your house.
Blue can be used to add a splash of elegance or create a coastal feel if desired.
You could even go bold with deep reds or vibrant oranges for an eye-catching touch!
No matter what Hardie Plank Siding colors you decide upon, you can rest assured that it won't fade over time due to its specially formulated coating meant to last many years. This means less money spent on upkeep and maintenance so you can enjoy your beautiful new siding worry free!
Hardie Plank Siding Cost
If you're looking for a way to make your Birmingham, Alabama home stand out from the rest, Hardie Plank siding is an ideal choice. Not only does it come in a variety of colors and styles that can match any home design, but it also offers unbeatable protection against harsh environmental conditions. Plus, if you're worried about cost, there's good news: Hardie Plank siding is surprisingly affordable.
Hardie Plank siding has gained popularity among homeowners because its fiber-cement construction makes it incredibly durable and resistant to water damage. This means you won't have to worry about costly repairs down the line like with other materials such as wood or vinyl. Its fireproof characteristics are also beneficial for families living in higher risk areas of Alabama. Additionally, this type of siding requires minimal maintenance and doesn't crack or warp over time; saving you money on labor costs too!
Our Hardie Plank Siding Installation Process
At Siding Experts of Magic City, we strive to make the process as straightforward and efficient as possible. Here's an overview of what you can expect when working with our network of siding contractors:
Initial Consultation: Our experienced team will meet with homeowners in person or over the phone to discuss their needs and budget. During this initial consultation, we'll provide a free estimate for any services requested.
Material Selection: After deciding on a material, we'll help you choose colors and textures that match your unique style and preferences. As expert installers, we have access to exclusive options from leading manufacturers like James Hardie®.
Installation Process: Once materials are chosen, our crew of professionals promptly begins installing the siding according to industry best practices and safety standards. This ensures long lasting results without sacrificing quality workmanship or aesthetics.
Follow Up Care: To ensure satisfaction after completion of the project, our team follows up with customers to answer any questions they may have about maintenance or repair procedures down the road if needed.
We take pride in providing exceptional customer service throughout every step of the way—from beginning to end—to ensure all of our clients' siding dreams come true! Contact Siding Experts of Magic City today to connect with Hardie Plank siding contractors near you.